Markdown Monster
Error sending post to Weblog
Error sending post to Weblog
Frank Schwarz
All
Hello. I'm having a bit of an issue setting up my first WordPress blog. A little backstory. I have a self-hosted wordpress on cloudways and registered with Cloudflare. I have checked to see if xmlrpc.php is valid on my site and it appears to be. I get an error that only says that there was an error.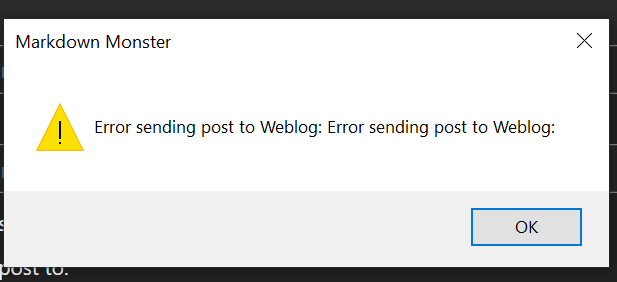 The output from MarkdownMonsterErrors log doesn't offer much to me. (I'm a bit lost.)
8/20/2023 5:36:52 PM - Error sending post to Weblog at https://xxxxxxxxxxx.com/XmlRpc.php: DTD is prohibited in this XML document. -- Response from server does not contain valid XML. Markdown Monster v3.0.0.37 10.0.19041.1.amd64fre.vb_release.191206-1406 - en-US - NET 4.0 - 64 bit MicroElectronics B242, AMD Radeon(TM) RX Vega 11 Graphics, hw-acc: True en-US - en-US
System.Private.Xml at System.Xml.XmlTextReaderImpl.Throw(Exception e) at System.Xml.XmlTextReaderImpl.ParseDoctypeDecl() at System.Xml.XmlTextReaderImpl.ParseDocumentContent() at System.Xml.XmlLoader.Load(XmlDocument doc, XmlReader reader, Boolean preserveWhitespace) at System.Xml.XmlDocument.Load(XmlReader reader) at CookComputing.XmlRpc.XmlRpcSerializer.DeserializeResponse(Stream stm, Type svcType) System.Xml.XmlException
Any guidance s greatly appreciated. I'm excited to get this fired up!
Frank