FoxInCloud
Error opening a form
Error opening a form
Michele
All
In our application we often have this type of error when opening the same form several times. Let me explain:
I click on the required button, the form opens
I close it
I repeat and the error appears
I try again and the form opens and so on, without a particular sequence or logic.
The file in question is not a file of our application and it is not a temporary one that we manage. The same error also appears when in the same session I want to try to open another form ...... The file also when the error appears is present in the folder and can be renamed, so it is not blocked by anything, however the error appears. Is it possible to figure out how to fix this error? If it depended on a code error in our application I would expect a regularity in the appearance of the error ... There is no doubt that however it is an error that gives enormous uncertainty to the customer who uses the application as every 2 times he has an error to be "ignored".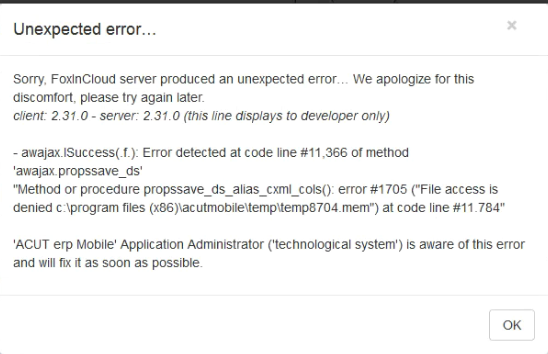 Thanks for support