HTML Help Builder
Help Builder 5.32 released
Help Builder 5.32 released
Rick Strahl
All
I've updated West Wind Html Help Builder to version 5.32 today. This is a relatively small maintenance release that also features a few nice new feature improvements.
Help Builder is a documentation creation tool that uses Markdown based text editing for creating content, and HTML based, easily customizable templates to create great looking, consistent documentation output that can be published directly to the Web, or PDF, Word or CHM file outputs. The goals is to let you focus on writing your content and let the default templates do the messy work of styling and layout.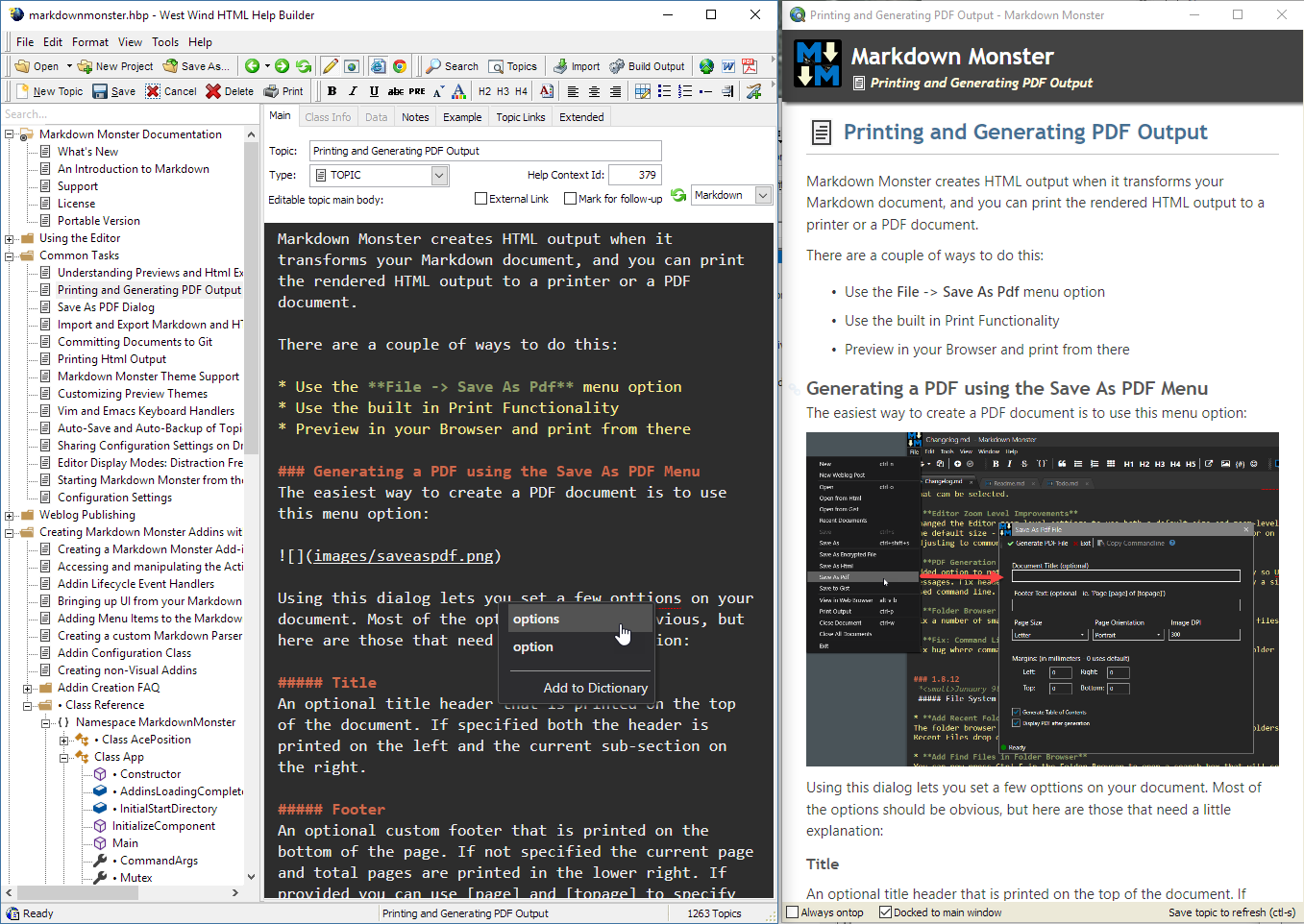 Help Builder is great for creating product, end user and developer documentation, FAQ's and Reference documents. You can also use it for a Code Snippet library, or a repository for notes, or as a tool to quickly put up any topic navigation based Web site.
What's new in Version 5.32
Version 5.32 is mostly a maintenance release with a number of small bug fixes. In addition there are a few enhancements.
Table of Content Search Improvements for Web Output
The big feature improvement in this release is updated HTML output for the table of contents display with a new search mechanism that's more efficient, and supports indexed search results. The indexed search also works on topic content, title, keywords and id in addition to the title and id search that was previously used. You can choose between: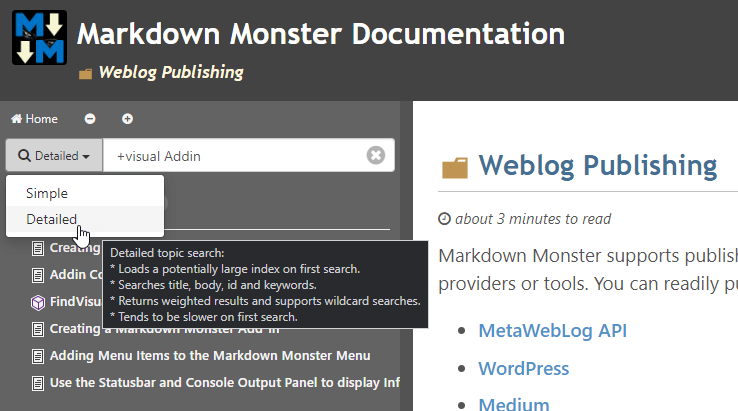 Simple Search
Same mechanism that was used before that searches the topic titles and ids for an exact text match. This search is simple and fast and works for exactly matching the search term.

Detailed Search
This search uses a new SearchIndex.js index that is generated when the help file is generated. The index is used to provide searching of title, content, keywords and Id and can provide weighted results based on the number of matches of one or more search terms. Search terms can use wildcards and provide for making a search term non-optional (+term).

The detailed search loads the index as needed, and it can be slow for the first hit as the index is loaded and parsed for first load. This search works best if you need to use multiple search terms or need to search in topic content, or if the simple search returns too many results.
Improved Web Search Results
Search results in the Table of Contents are now returned as a single level list, rather than the tree display before which greatly reduces the amount of content that is matched and returned. This reduces clutter in search results and also drastically improves search performance.
External Link Navigation Improvements
Help Builder now opens links from the Preview Browser in the system browser, rather than Internet Explorer as it did before. Due to the Web Browser control in use the default link click action to an external frame opens in IE, and so the preview handler now explicitly intercepts navigation requests and opens http/https requests in the system browser that you have configured on your Windows machine.
Small Release - What do you need?
This is a small update release and as most of the recent releases, these incremental updates are primarily maintenance releases. Help Builder is a mature product and it's already chock full of features, so there's not much that needs to be added.
However - if you see something you'd like to see, drop by and add an issue on the GitHub release repo to see if we can get it added to help builder.
Check out the new release. If you're an existing registered user, same version updates are always free, otherwise the free evaluation version is fully functional to let you try out Help Builder
Get documenting...
+++ Rick ---