Web Connection
Web Connection 7.13 released
Web Connection 7.13 released
Rick Strahl
All
Hi all,
I've released Web Connection 7.13 today. This is a very small update meant to be a rollup release of a host of small updates that where added to the 7.12 release last month. This update consolidates all those changes into a new common release with a new stable version number. If you're running version 7.12, I recommend you update to ensure you have the latest up to date bits - there are no breaking or configuration changes.
If you are a registered user for Version 7.0 you will have already received a confirmation email with a new registered download link. Otherwise you can grab the latest shareware version from the Web Connection download page.
Updating is Easier Now
As part of the v7.x product cycle, updates to new versions are mostly transparent - you can simply unpack the new version on top of the old one and that's all that needs to happen to be up to date. It's still recommended you run setup.exe to update the Visual Studio configuration but otherwise setup.exe mainly exists to configure the sample Web Connection application.
If you want to version your Web Connection installs that's easy too now: Just rename your old Web Connection install folder to something like \wconnect712 and then copy the files into \wconnect. Once installed both versions can be used in your projects - the only thing that needs to change are the SET PATH statements that determine where FoxPro looks for the Web Connection framework files.
Consolidated Version Update Documentation
The documentation for updating between versions or upgrading from the shareware version has also been updated and consolidated into a single topic with much simpler steps.
Updating from previous Versions or the Shareware Version
This process is further helped by the new UpdateProjectResources Console functionality which helps you copy the latest Web Connection resources like the Server modules, dlls, script and css libraries etc. into your project folders. This makes it easy to keep your projects up to date.
You can run the project update process with:
DO Console with "UPDATEPROJECTRESOURCES"

There are command line options to provide the project path and which items to update or you can use the new interactive Management Console option: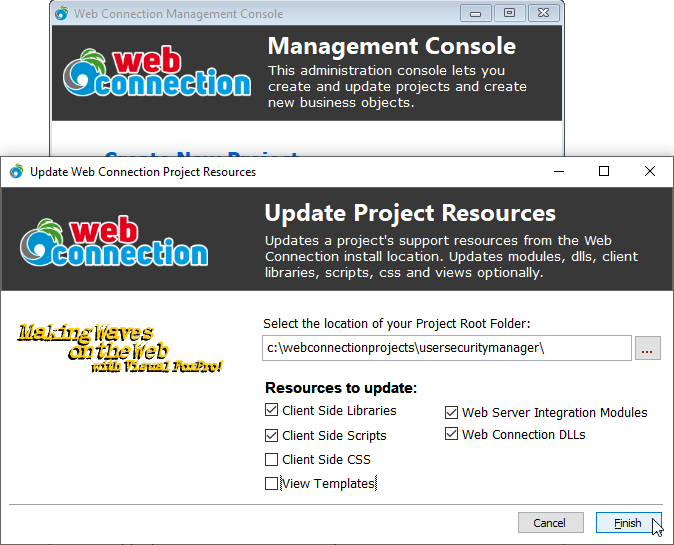 In short, it's become a lot easier these days to update your Web Connection applications to the latest versions.
Check it out...
+++ Rick ---