FoxPro Programming
VFP9 and .NET web service proxy generator
VFP9 and .NET web service proxy generator
Peter
All
Hi there,
I have downloaded the shareware version of the .NET web service proxy generator and have an error message that I don't understand. Please excuse my ignorance but I am a DB guy not a .NET one.
I have developed an App within which I would like to send an order to a web service. I have tested the xml I generate with a sample app that the service developed and it works just fine.
I have recently spent a week trying to get to grips with MSSOAP and the wshandler class in VFP9, I now have no hair as I have pulled it all out. In my frantic search for answers I came across your web site. I got very excited and wished I had found it earlier.
However my excitement dimmed a little when I got an error generating the service proxy. As you will see from the screen shot below the wizard filled out the required fields perfectly and I know these to be correct from my previous investigations of the wsdl.
Can you help?
Here is the screen shot: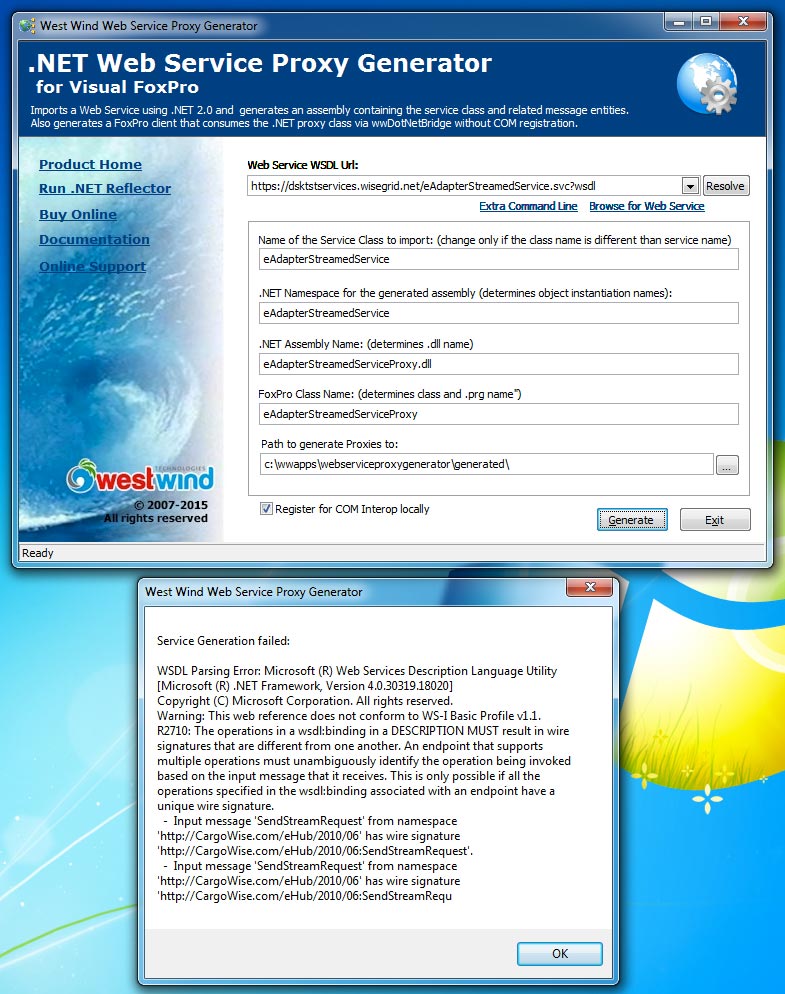 I will gladly buy your app if I can get it working.
Thanks, Peter
re: VFP9 and .NET web service proxy generator
Rick Strahl
Peter
This service is a WS-* service and it uses ws-Policy and ws-transport. The WSDL Generator only supports SOAP 1.x services not WS-* services, due to their complicated configuration requirements.
In order to use this service you'd have to use WCF in .NET and then call into the generated library via .NET COM Interop.
There's a really old article that describes how to do this - old but still relevant, although it's a bit easier to make the COM interop calls with wwDotnetBridge now.
+++ Rick ---