Web Connection
A couiple of 7.12 update comments
A couiple of 7.12 update comments
Richard Kaye
All
Hi Rick,
I noticed that there are a couple SET STEP ON statements in the latest release of wwhttp.prg and wwbusinessobject.prg has one as well.
The link to return to the admin page from the web connection and web connection error log pages is broken.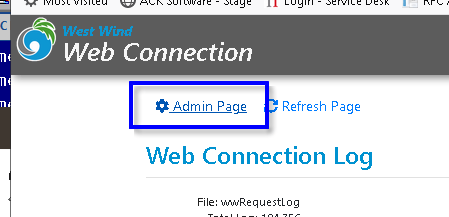 For example, this one links to itself instead of back to the admin page:
https://enterprise.invaluable.com/admin/wc.wc?wwmaint~showlog
Of course, it's always possible that I've broken something in the admin template...
re: A couiple of 7.12 update comments
Rick Strahl
Richard Kaye
SET STEP
Thanks removed. Thankfully there were in low traffic areas that aren't on the common code path, so that's why they got missed.
Admin links
Yes all the admin links have been reshuffled due to the new Admin page consolidation that now points the Administration.wc that combines what was on admin.aspx and the Module or Middleware Administration pages.
I have to check but I think those links have been fixed already.
There will be a 7.13 release soon that cleans up some of the small issues that were uncovered in 7.12 and have since been fixed with patched updates. Kind of a roll up release to get a clean and consistent install 😃
+++ Rick ---